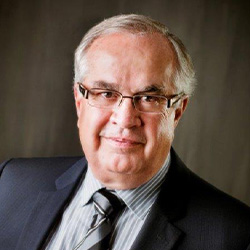 Paul Quantz, approved for Re-Instatement of EMCC OM, Feb 15, 2023
Admitted to the Alberta Bar in June 1975 and first credentialled as an EMCC Ordained Minister in 2004, Paul has served Jesus in law firms, volunteer youth ministries, on a Guest Ranch for youth and adults, in pastorates and on boards. After retiring in 2020 from Quantz Law, his General Law practice in Edmonton, he began to feel the nudge of God to once again offer his spiritual gifts in service of the church. Paul hopes to serve in interim or transitional pastoring and has recently been approved as an EMCC Transitional Leader. He is waiting on God for his first assignment.
Paul, the son of a pastor, recalls becoming a Jesus follower at about 5 or 6 when his mother prayed with him. "I remember the feeling of joy and relief of being forgiven of my sin and coming into the family of God."
Paul was drawn to the law as his chosen profession. Still, after high school, his dad strongly encouraged a year of Bible School first. Paul credits his time at Mountain View Bible College in Didsbury, Alberta, as providing the Biblical foundation that kept him on course during his years of secular education in university and law school. "I never doubted my faith, although it was challenged often."
While engaged in private practice at a law firm in Red Deer from 1974-78, Paul and his wife Gloria were invited by Gloria's brother to move to Lac La Biche to start a guest ranch business to provide camping and ranch experience while witnessing for Christ in that setting. At the same time, he set up a solo law practice to provide income for their growing family and the ranch. A change came in 1985 when he felt the call to full-time ministry. To pursue this, they left Lac La Biche and moved to Steinbach, MB, where Paul enrolled in the M Div program of Providence Seminary. He took a part-time youth pastor position during his studies, which turned into full-time. He left Seminary, believing it was God's will. In 1990, suffering from burnout, Paul and their family returned to Alberta, this time to Athabasca, where Paul purchased a law practice and started practicing law again. He also started a youth centre in Athabasca.
"We were attending Athabasca Missionary Church, and in 1990 the church approached me to be their solo pastor." During his pastorate in Athabasca, Paul was credentialled with EMCC. He served on EMCC's National Board for 3 years during the transition from the 2 districts to the national church. After seven years at Athabasca EMC, Paul resigned, set up a practice in St. Albert in 2007, and subsequently in north Edmonton, where he practiced law with his daughter Paula until he retired in 2020.
Sensing God has more for him to do, Paul says, "I am awaiting my next adventure with God in his kingdom work. I believe my gifts are preaching, teaching, discipling and training leaders. I am also able to discern spiritual direction and motivation and would like to serve in the area of interim or transitional pastoring. I would love the opportunity to teach how a church should be and to work with a congregation. I like to break moulds, challenging leadership with a vision of bringing the world to Jesus."
Paul and Gloria presently live in Cardiff, Alberta. They have been married for over 52 years and have four grown children, 14 grandchildren and three great-grandchildren. "I love my family and family get-togethers. In my spare time, I enjoy golfing, camping and fishing."