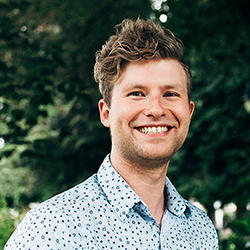 Kevin Hegeman, approved for Recognition of Previous Ordination, March 16, 2023
People often told Kevin he should consider pastoral ministry, but he thought otherwise. He had finished his bachelor's degree and was hard at work on the final step before medical school—a Master of Science Degree focusing on Molecular Endocrine Toxicology, which he was pursuing at Simon Fraser University in Vancouver.
Kevin remembers accepting Jesus at his mom's side when he was four and, to the extent that he understood it, was confident in his relationship with Jesus in those early years. He's been growing into his faith ever since, describing it as a continual journey of discipleship where he learns to trust and follow Him more every day.
With a background in Christian & Missionary Alliance churches, Kevin began attending Coquitlam Alliance while pursuing his master's at Simon Fraser. He first served as a volunteer, then as an Admin Assistant, and when a position opened, he stepped into the role of Pastor of Care and Connections. This scenario had happened before at churches Kevin had previously attended. He knew within himself that perhaps God was hinting at something, and he really should consider it. Since high school, he'd been teaching and leading and was no stranger to ministry pursuits.
During the next 2 ½ years, Kevin worked half-time as a pastor and half-time at the lab doing research. God really got his attention one particular Sunday morning as he looked out at the people ministering to each other in prayer. He had a strong sense of the Lord saying to his spirit, 'This is what you have been made to do.' As he wrestled with this in prayer and sought the counsel of colleagues and friends, a 'settledness' was growing within.
When Durwin Gray, Lead Pastor at Hillside Community Church in Coquitlam, approached him to ask if he would come on as a full-time pastor at Hillside, Kevin's thinking and praying shifted to high gear. While away on a month-long trip, God's call became clear. He returned to Coquitlam, accepted the offer and became the Pastor of Youth and Small Groups.
Kevin started at Hillside in June 2019, finished his master's during the pandemic and defended his thesis on Zoom in April 2020. In addition to his education in the Sciences, Kevin has pursued Christian Education since he began his first ministry role in 2017, completing the C&MA's credential process and their two-year ordination process. Continuing his education, Kevin is taking graduate-level courses at Regent College in Vancouver and has completed 24 credits towards their 60-credit Master of Arts in Theological Studies (MATS).
Kevin's present title is Pastor of Youth, Young Adults, and Worship. Teaching, discipleship, preaching, relationship-building and oversight of the worship team are key aspects of his ministry. He loves being present in people's lives and is passionate about seeing people formed into the image of Christ.
Kevin lives in New Westminster, about 10 minutes away from Hillside Church. His parents and siblings live an hour away. Kevin is an avid reader and loves hiking, camping, cooking and spending time with good friends and family.