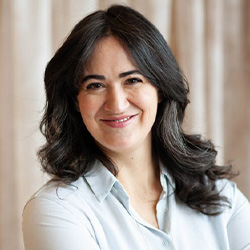 Becky Timmons, approved for Ordained Minister, May 31, 2023
After finishing her Bachelor in Arts and Church Music at Rocky Mountain College in Calgary in 2003, Becky was offered an Internship at Centre Street Church. Her answer was no, but it was not her final answer. Becky grew up in a Christian home with a Pentecostal background. "I was saved many, many times," says Becky. "I wanted to be sure." She was in high school when she made a pivotal decision to make Jesus the centre of her life. "Over several months, slowly and gradually, I began to take more and more ownership of my faith."
After high school, Becky went to Bible College for a year while grappling with career choice. She enrolled in RMC's Edge program and was immersed in discipleship and Old and New Testament studies. The experiences built into the program were transformative. She recalls the impact of a trip to downtown Vancouver to evangelize, and as the end of the Edge program drew near, Becky decided to take more courses to see where it might lead. In 2000, she enrolled in RMC's Arts and Church Music program. After returning from the school's Europe music tour, Becky felt led to stay and be part of the music department. She graduated in 2005 with her bachelor's degree.
She had never aspired to become a Worship Pastor nor for music to become part of her career, but thoughts of this began to grow and flourish as she experienced life and learning at RMC. By the time Becky graduated, she believed God was leading her into music ministry. She assumed she'd probably serve in a small church, so the internship at CSC wasn't for her; however, a month after turning down CSC's invitation, that internship remained open. Reconsidering, she decided to say yes to the opportunity. "I came, helped with the choir, fell in love, and extended the internship another year." In 2005 Becky was invited to come on staff full-time at CSC's Central Campus. Her current position there is Worship and Choir Pastor.
In 2007, while working full-time at CSC, Becky began work towards another degree, and in 2011 she came away with a Master's in Choral Conducting from the University of Calgary.
As CSC's Worship and Choir Pastor, Becky has a full ministry, is the team leader of three individuals who look after the three weekend services and is hands-on with the main service on Sunday mornings. She cares for all the scheduling of music and pastors and develops 80-100 volunteers as people of faith, musicians, and leaders. She sings and conducts and is responsible for overseeing the ministry of the choir and orchestra. She sets rehearsals, develops and directs the choir, and selects the repertoire. Another individual leads the orchestra, and they spell each other off.
Becky's position affords her ample opportunities to exercise her spiritual gifts of shepherd, leadership, and harmony. "I love working with people, and I love it when people work well together."
Becky cares deeply about others and sees the end goal of music ministry as discipleship. "Music is a tool to help people understand who God is and to hear from the Holy Spirit."
Becky and Barron have been married since 2006. The couple has two girls, Macy, 9, and Willa, 7 years old. As a family, they love the beach and hanging out near water. Life is full of family activities, dog walks and bike rides.