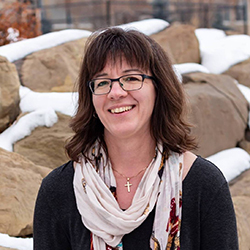 Katherine Milum, approved for Licensed Minister, March 21, 2023
"In 2004, I realized I wanted more in my life with God. I wanted to love Him, but even though I'd prayed a prayer when I was about eight and was baptized at 18 in an act of obedience, I didn't feel love for God. I was struck by Ezekiel 36:26, where God says: 'Moreover, I will give you a new heart and put a new spirit within you; and I will remove the heart of stone from your flesh and give you a heart of flesh.' (NASB) I said to God, 'You said you would do this. I can't do it, but if you want me to love you, you can change my heart.' And so God began the process."
God continued His inner work in Katherine over the following years, and, in retrospect, she sees He was preparing her to walk a difficult road. Her husband, Dave, was diagnosed with terminal bone cancer, and they walked the journey together with their three children for three years. He could not continue his work which involved lifting, and Katherine was also at home. "Those three years together were a gift." When God called Dave home, the children were 7, 11 and 13. Katherine was still in her 30's.
"I had already understood God's sovereignty and power, but through so many blessings, and community, I came to understand His goodness too. For the next two years, I was able to rest, heal, read, learn, grow and spend time with friends. Then it was time to look for work."
The family's home is in a multi-ethnic neighbourhood in Calgary. Because the kids were at school and Katherine was at home, she had plenty of time to make friends. As she began looking for work with people from other faiths and cultures, she became aware of a new ministry opening called the New Canadian Friendship Centre. This was a ministry of Centre Street Church, and Katherine knew the pastor who was heading it up. She applied and began her first position there as an Administrative Assistant. The Centre has just celebrated its 10th year. In that time, Katherine has progressed through several job titles, most recently from Manager to Pastor, since her approval as an EMCC Licensed Minister.
Part of the change God has been at work on in Katherine is bringing to her a realization of His call to ministry. "It has been gradual. A slow process of learning and understanding through a combination of further education, a call to mission, living in a multicultural neighbourhood and opportunities to move toward leadership. God put this more and more on my heart. I know this is where He's called me to be." Katherine is a learner and is in the middle of a Masters in Intercultural ministry, taking one course at a time.
At the Centre, immigrants and refugees come to learn English but find so much more. Katherine oversees the staff of three and volunteers, and they work together to create a welcoming space where people belong, are safe, and can experience Christian community and the love of Jesus while they learn English, take sewing and creative classes, baking and cooking and Bible studies. There is childcare, and they hold events such as potlucks and sometimes other 'Canadian' activities, such as skating parties. Some come four times a week, and some have been coming for eight years. "The community is as important as the classes." Although they have multiple classrooms with 300 ESL spaces per week, they are at capacity, with a waiting list. In the fall, the Friendship Centre will move from its leased facilities to Centre Street Church's central campus. Katherine is excited about this. "We will have more room, and it will be a daily reminder to the congregation of this mission we are engaged in."
As a pastor in a less-traditional setting, Katherine is a shepherd, a teacher, a servant and one who looks in faith to God as the one who holds everything together and makes the Friendship Centre a place where both practical and spiritual needs are met.
Continuing on the journey herself, Katherine is passionate about loving the Lord with all her heart and loving others.
Katherine has one married daughter, and a son and daughter living at home while attending university. She loves reading, tea or coffee with friends, puttering in the garden, walking…thinking…and dreaming.
See Facebook for more about The New Canadian Friendship Centre.