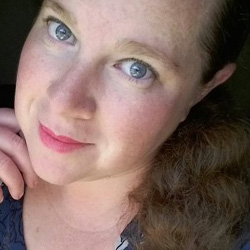 Kim Morrow, approved for Provisional License, March 1, 2023
"Why not aim higher? I want to plant that thought in people's hearts. There's so much more God can have for you." Kim's pastor suggested she pursue the Provisional License credential. "I prayed and felt the Lord saying, 'You are already doing this; you are already a pastor, you just don't have the credential.' As I began the process, I read the history of the EMCC. I saw that not all the leaders were highly educated or had pastoral skills—and I connected with them. It lit something inside me, and I thought—'I can do this.'"
Kim lives in a high-needs, low-income area of Oshawa, ON and serves in her community and church. She is the Director of Children & Youth Ministries and Associate Pastor at Livingstones Community Church.
Kim's grandmother took Kim and her sister to church when they were young. She was especially taken with how one pastor ran children's programs. He was an illusionist and also used object lessons. This memory stayed with her.
"I became a single mom at 24, and something shifted within me, and I began to understand God's grace and love for me. I love to write songs using my story. And I've been a rap artist for over 15 years. Using this skill has helped me reach many people, especially youth. When my son was five, I married Leon, and he took on the dad role. Because of my past, I can relate to others in single-parent families."
"I enjoy the challenge of being involved with children and youth. My husband and I lead the youth group alongside another leader. Some of the youth struggle with getting into trouble, and face other challenges that sometimes limit them. But Jesus loves us all. When these kids often get rejected because of behaviours, some write them off, but I see what Jesus sees—potential. We are planting seeds, and teach practical ways of living our lives by Godly principles."
Besides working with youth, Kim shares the message every few weeks, does some administrative work at church, and walks with a few in discipleship. "I've lived in this community for years and found that food and conversation can develop deep relationships."
"I want to serve and help where I feel called. As a visual learner, I've developed a passion for teaching children using art, music, object lessons, and other ministry methods that impacted me as a child. It is my heart to be approachable, make church fun for kids and adults alike, and get out into the community and do outreach events."
Kim enjoys spending time with her family, painting, walking, or sitting outside by a nearby creek. "I love being around nature. I love being around life." Kim hopes to continue to grow in her journey as an EMCC credential holder by furthering her education.