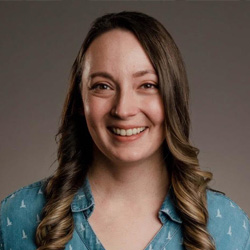 Alisha Durksen, approved for Licensed Minister Oct 4, 2022
"When I was a teen, the Youth Pastor at our church saw potential in me and started giving me opportunities to lead. After a while, I was running youth events."
Today, Alisha is Youth Pastor at the same church, Hillcrest EMC in Medicine Hat. When she began her role in 2015, the man who years ago had encouraged her into youth ministry was now one of her youth group leaders. He got to see the fruit of his investment.
Alisha was about five when she gave her heart to Jesus. Although thoughts of becoming an English teacher persisted through her teen years, several people took her aside and said she should be in ministry. From these encounters, Alisha's conviction grew in that direction.
In 2003 she moved to Calgary for studies at Rocky Mountain College, graduating with a Bachelor of Arts and Leadership Development in 2007. Years went by, and she served in two ministry positions in Calgary. In 2015, Hillcrest Church offered her a youth pastor position which she accepted.
Back at Hillcrest, Alisha met Tyler. Theirs was a Covid wedding in 2020, happily in one of the pockets of time where you could invite guests.
Alisha writes the youth curriculum and does all the teaching, which she loves. About 75 attend Hillcrest's youth groups. She checks in with about 19 small group leaders and meets with students to build relationships. She plans youth events, preaches occasionally and sings on worship teams.
"I genuinely love what I do," says Alisha. "I feel so called to it, and still, after several years, I am excited to be able to do it."
Alisha enjoys writing poetry, stories and sermons. During Covid, when personal travel was not an option, Alisha and Tyler devised a creative outlet to feed their love of distant places. "We love to cook international food and decided to cook recipes from a different country every week. We called it 'The Durksen World of Food.' It gave us a chance to sample the world in our own way."