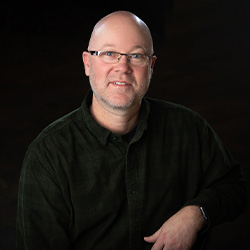 Mike Deibert, approved for Ordained Minister, May 4, 2022

From teacher to pastor, to journeyman electrician, to tech director and now, since 2019, the Pastor of Legacy Adults at Hillcrest EMC, Medicine Hat—"I felt God's leading through all of the changes. I held on for the ride."
Mike heard the gospel message and believed when he was nine years old in a Sunday School class. His teenage years were tumultuous, but "Faith was always on my mind, and I finally made the commitment," says Mike. Using his Bachelor of Music in Music Education he taught music for about six months, but slowly realized God was leading him into ministry.
He graduated in 2000 with a Master of Divinity from Canadian Southern Baptist Seminary in Cochrane, AB. He served at a North American Baptist Church in Medicine Hat for almost 10 years but discouragement and burnout led him to resign. Mike and his spouse Jamie and their family of three girls began attending Hillcrest Church.
"I trained as a Journeyman Electrician and followed this trade until 2017. Then Hillcrest Church called me and said they needed a Tech Director. After a couple of years, the church was working through staff changes, and they asked Mike if he would move into a pastoral role.
As Pastor of Legacy Adults, Mike is involved with seniors visitation and chapel services in care homes throughout the city. He oversees and often leads Bible studies, fellowship groups, evangelism efforts, events, and conducts weddings and funerals.
"I love being with people. "I am here to encourage seniors to develop a legacy. A spiritual legacy lasts forever. It is important to leave a legacy of holiness and the example of a relationship with Christ to those who come after us."
This is where I need to be. I'm a pastor with a shepherd's heart."
Mike loves spending time with Jamie, to whom he has been married for 25 years, and their girls, now 18, 20 and 22.