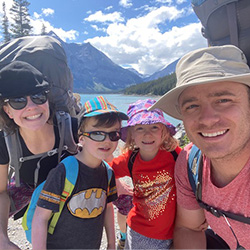 Justin Fox, approved for Provisional License, June 2, 2023
Justin has served as Youth and Connections Director at Bonavista EMC in Calgary since the fall of 2019. Initially, he planned a career in Business, then changed to Communications, but neither path seemed quite right. He worked with adults with disabilities and later with teenage boys with behavioural issues. These career experiences cemented his realization that working with people was a good fit for him. Slowly, though, he understood that although he was helping people, an important aspect was missing from his secular work – the difference the gospel makes.
Even though he had thought his education was behind him, after 3 ½ years in the workforce, he decided to return to school, with thoughts of pastoring or counselling growing in his mind. In 2019, he enrolled at Ambrose University, a private Christian liberal arts university in Calgary. He spent three years there, and at each slow step along the way, he felt God saying yes. It was the same with his call to ministry.
Justin grew up in the church, and Bonavista was his family's church home. He credits his parents and the church as his most significant Christian influences. He was on the worship team and played the drums. A believer in Jesus since he was a young child, Justin went through periods where his walk didn't always match his talk. In his university years, and after meeting his wife Jessica, he had seasons of deeper appreciation for scripture and slowly continued growing up spiritually, becoming more focused. "I was learning that the Jesus way is the best way to live. "
In 2022, Justin graduated from Ambrose with a Master of Arts, Leadership and Ministry. During his time at Ambrose, he worked part-time at Bonavista as their Youth Director. When he graduated, they invited him to come on staff full-time.
As Youth and Connections Director, he is responsible for youth, small groups, connections, communications and young adults. He also preaches regularly. With spiritual gifts of mercy, shepherding, teaching, communication, and leadership, he is now in an environment where he can help people from a Christian starting point.
Justin loves working with all manner of people. When asked about his ministry passion, he cites Luke 14, which he refers to as 'The Misfit Banquet.' "It's where everyone is invited, but only the people who realize they have nothing better to do show up, and you get to sit shoulder to shoulder with them. Ministry is just showing up for the ones who show up."
Justin and Jessica have been married since 2015 and have two children, Florence, 5 ½ and Gideon, 3 ½. There is cycling, camping, backpacking, and reading in spare time. "I'm trying to do good things with my wife and kids."