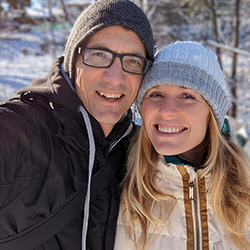 Jamie Reimer, approved for Ordination July 14, 2022
"I love being able to coach and shepherd and care for people pastorally and see them do the same for others," says Jamie.
Jamie, Naomi and their daughters Hailey and Emery live in St Catharines where Jamie has invested his past 20 years in various ministry positions, the last 10 years within Bethany Community Church. Beginning as Assistant Youth Pastor and in leadership of the student Support Recovery Ministry, Jamie subsequently served as Group Life Director, and for the past three years as Pastor of Adult Discipleship.
Raised in a home with parents who loved Jesus, five-year-old Jamie came to know Jesus and has been learning to follow Him since. In high school, his co-op was with his church's youth pastor, and through this experience, He realized God's call to Youth Ministry. He graduated from Tyndale Bible College in 2002 with a Bachelor of Religious Education and Youth Ministry. After serving for a time at another St. Catharines church, Jamie and Naomi began attending Bethany. As Pastor of Adult Discipleship, he is involved with spiritual formation for adults and leads a team of leaders from the Home Church ministry, Support Recovery and Pastoral Care ministries. Together they create spaces for connections with people. "I love working with the Bethany Church community and the staff," he says. "It is a special place to serve and call home."