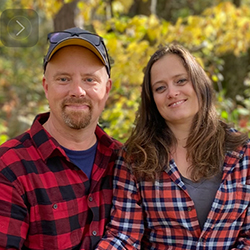 Adrianna Cote, approved for Provisional License, Feb 22, 2023
"In 2018, my husband, Yvan, and I picked five churches to try when we decided to go back to church. Lakeshore MC was first, and we never went anywhere else. With the pastor's encouragement, I understood who Jesus is, became a follower, and was released from so much. Slowly it was revealed to me that I would become a pastor."
Adrianna is pursuing her call. She learned the basics from Lakeshore's pastor, Mark Chester, who helped her discern her spiritual gifts in administration, teaching, encouragement and outreach. When a Children's Program Coordinator opportunity came up at church, Adrianna applied and was chosen. "I am getting a sense of what it is to lay foundations. I help make Sunday a good day for the kids, and, at the same time, I am growing my skillset and experiences to what I feel called to, which is pastoral ministry." Pastor Mark suggested Adrianna apply for EMCC credentials, and after completing the process, she was approved for Provisional License.
Besides her ongoing practical ministry experience, Adrianna returned to school and has completed a Bachelor of Theology from Okanagan Bible College. She has just started an online Master of Divinity degree with Kairos University, affiliated with Sioux Falls University.
With the responsibilities of spouse and mother to four children—all still at home, her position at the church, and working toward another degree, Adrianna's plate is full. "I have two speeds: Go and Stop."
"My passion surrounds foundations, helping people new in the Faith understand their foundation in Christ. Also, to remind those more spiritually mature that our salvation is in Christ alone, in Faith alone. I love outreach, coming alongside people in difficulty, and sharing the love of Jesus. Someday, I will pastor a church, Lord willing."
Adrianna is a reader. She loves doing things with Yvan and their kids. They live in the rural village of Corbeil, just outside North Bay, Ontario.