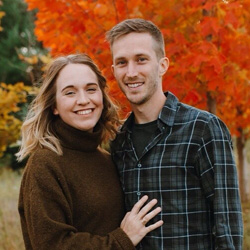 Jake Bursey, approved for Licensed Minister, Nov 1, 2022
On March 20, 2020, Jake began his current position as a co-pastor at Trinity EMC in Waterloo, ON. Born in Port Perry, Ontario, into a pastor's family, Jake always attended church. "I came to know Jesus when I was about five. Near the end of university, I had a strong encounter with God and made a commitment to following Jesus wholeheartedly." During this time, he felt a call to minister to those in need.
After graduating with a degree in Religious Studies at U of Waterloo, he continued his studies. He graduated with a Masters in Theology from Conrad Grebel University College in 2016.
Jake then served as an Outreach Worker with St. John's Kitchen. This ministry serves lunch daily and offers showers, laundry, conversation and a safe place to be. Jake had been at St. John's Kitchen for three years when God put it on his heart to pursue pastoral ministry. A prophetic word called Jake and Julie to go to Lincoln Heights EMC in Waterloo, where Jake helped with preaching and Bible studies. They became connected to prayer nights at Trinity, another Waterloo EMCC church. When a pastoral position became available at Trinity, a life-transforming prophetic incident led Jake to apply. Although not offered that position, Trinity invited him to serve in a six-month co-pastor capacity while they searched for a permanent pastor.
Jake got to know the congregation, leadership and the other co-pastor and began using his spiritual gifts of teaching, shepherding and administration. He learned to share the ministry load with the other co-pastor and church leaders. During an extension of the original interim contract, the church search committee discerned that the female/male co-pastor model was the right fit for their church. They invited both to stay.
"God has put evangelism and discipleship strongly on my heart over the past few years" says Jake. He is presently discipling a group at Trinity and other individuals not associated with the church.
Jake and Julie have three little girls. Jake and Julie enjoy having people over, playing board games, and Jake likes to play hockey.