A conversation with John Pritchard, a founder of The Edge Home Church Network

I showed up one Sunday morning at John & Trish Pritchard's home in Calgary, a few minutes before members of their home church arrived for their usual Sunday breakfast and fellowship together. Breakfast was great, and I felt right at home as they welcomed me into their time of singing with their kids, studying scripture and praying for their friends and neighbors. I knew however, that this was just the tip of the iceberg in terms of knowing what the Edge Home Church Network was all about. My conversation with John earlier in the morning gave me a better understanding of how the Edge is fleshing out an alternative approach to being the Church in the world.
GW: How would you describe the Edge?
JP: One of the phrases we love to use that describes our intention is 'Following Jesus into people's lives.' The assumption is that Jesus is always working in people's lives. Because he is in us, his mission is to position us into the lives of others where he is already working so that we can become a voice and reflection of his love. The Edge is a family of people that are trying to support each other as we move into people's lives.
GW: When you started this, what was the impetus?
JP: I became a Christian when I was 17 and really felt like I was entering into a revolution. I had never really heard about Jesus and when I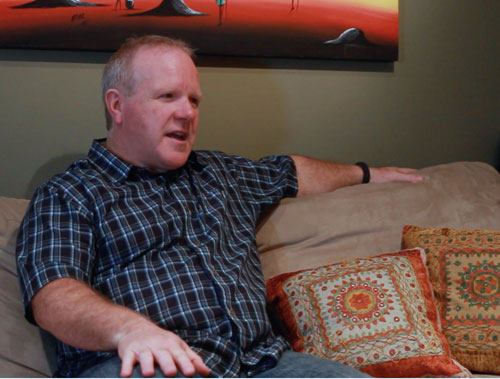 heard about who he was, I thought 'this is going to change the world - this can really have world impact.' As I went on and became a pastor I began to feel that I was more of an event planner. My measurement of success was how good the event was and how many people committed to coming to it. That wasn't the revolution that I thought I was joining.
I went through a church crisis, I resigned where I was, and our family went to South Africa for six months to find a different version of how to be the church. There we found the kind of movement that we want to be a part of.
GW: Is there a typical rhythm for someone who belongs to an Edge Network Home Church?
JP: There are certain rhythms like fellowship, teaching, prayer and worship as outlined in Acts 2 that are characteristic of a home church. A home church wouldn't say that they hold services, but these are common elements of their experience together.
GW: Who is involved in The Edge?
JP: Some are people who reach the same level of discontent as I did and just want to try something different. There are others who are saying that if we are really going to fulfill our mission and make a difference in our country, then we need to do this differently, and it needs to be more about life transformation than organizational growth.


That wasn't the revolution that I thought I was joining
GW: How many home churches are part of the Edge Network?
JP: Right now there are about 30, but they are becoming difficult to identify because as people engage together in the lives of others, it may not take the form of a house church. We currently have a group, for example, who work in downtown Calgary and are simply getting together and encouraging each other as they move into the lives of their coworkers. Would you call that house church? We don't struggle with the definition, we just try to support people doing this. A service is not what defines a house church – it's a family of people following Jesus into people's lives.
GW: Can you tell me a story of people on mission?
JP: Just last week a house church in St. Albert decided they would rent a booth in the Body-Spirit-Soul Expo in Edmonton, which is a New Age type of event with palm readers, psychics and all that sort of thing. They decided to put up a prayer booth as we have done at a similar event in Calgary for a number of years. A couple of us went up just to support them. A person would go and get their palm read, get their "aura" sorted and then they would come for prayer at the prayer booth. They would write down their prayer and we would commit to praying for them for a couple of weeks. If they provided an email address, then our leaders would be in touch with them. People who are searching spiritually come to that venue, and we really feel that's where Jesus would be – right in the middle of it.
But mission to us isn't primarily about doing events together. We want to know who is in your life that you are trying to reach out to with the love of God, because we want to be involved in that. Who do you work with? Who do you live next to? We'll pray for them. We want to be involved in each other's mission in life, not just doing mission events together.
GW: What are some of the challenges you are facing as you develop the movement?
JP: One challenge is how to give proper care to the house church leaders as the movement now spans from Vancouver to Niagara Falls. A metaphor from 1 Samuel 14 that we use is that we are like armor bearers; they are the leaders, we are the support. We have to be creative in how we do that.
Structure is another issue. If it's God's idea for this to be a national movement, then we have to discern what degree of structure is right for us. Based on our past experience, we are very cautious about having too much structure.
We are also working hard to keep a sense of family within the whole network so that people who are on their own in Saskatchewan or wherever feel that they are part of a bigger family. That's really important to us. We are using technology to try to keep relationships strong - video series, vlogs, Facebook are tools that we are using to bring people together.


John Pritchard is an ordained minister in the Evangelical Missionary Church of Canada. The Edge Home Church Network is one of EMCC's expressions of 'New Groups for New People.' Learn more about the Edge Home Church Network and read their stories of life transformation at theedgehc.com