Samuel Charles is from Cap-Haitien on the north end of Haiti. Born into a family of very modest means,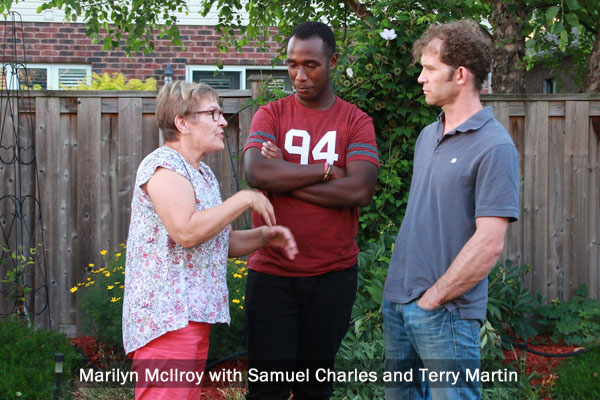 his dream of becoming a medical doctor was unlikely to be realized, even though he did well in school.
While still in his last year of high school a friend coerced him into attending an English language tutorial that was offered by some visiting students from Laurier University's Faculty of Education in Waterloo, Ontario. The Laurier students were enrolled in a Glocal co-curricular program co-lead by Associate Professor, Steve Sider.
Samuel actually missed the first session of the tutorial, but quickly caught up in subsequent sessions. Steve Sider recognized Samuel's aptitude for learning and wanted to help him reach his full potential. He was aware of the Yvonne Martin Memorial Scholarship Fund due in part, to the fact that Yvonne's daughter-in-law was one of his graduate students. He mused that the scholarship fund may provide the gateway Samuel needed to realize his dream of becoming a medical doctor.
Applications were made and Samuel was granted the funds needed to proceed to medical school. After spending several years in another university, he enrolled at a reputable medical school, Quisqueya in Port-au-Prince.
This past summer, Samuel, being at the top of his class, was chosen to attend an advanced training course in Montreal. While he was in Canada he had the opportunity to travel to Kitchener, Ontario to meet with members of Yvonne Martin's family, with Steve Sider, and also with World Partner's Missionary, Marilyn McIlroy, who was responsible for establishing the Yvonne Martin Scholarship Fund.
Samuel is one of eleven students who have been able to pursue professional credentials in health sciences with the help of the Yvonne Memorial Scholarship Fund in the seven years that the fund has been established. Inspired by his faith in Jesus, which was modelled for him by his parents, his intention is to set up a medical practice in his own country so that he can serve as an agent of God's blessing to his fellow Haitians. As a condition of receiving the scholarship funds, Samuel will serve for a year in the medical clinic operated by AEM in Gens de Nantes.
*******************
Yvonne Martin was a retired registered nurse from Alma, ON, who served on several medical Volunteer Teams to Haiti with World Partners Missionary, Marilyn McIlroy. She was killed in the earthquake that devastated Haiti in 2010. A scholarship fund was established in her memory specifically to aid students in Haiti pursuing higher education in health care. Donations to the fund are always welcome. Learn more here.

Learn about the other recipients of the Yvonne Martin Memorial Scholarship Fund to date.