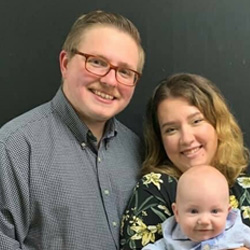 Zack Thornton, approved for Licensed Minister, Oct 12, 2022
"By eight years old, when kids were saying what they'd be when they grew up, I always came back to 'pastor,'" says Zack. "I am a third-generation pastor, and with that great example, I just knew I'd do that too."
Zack was born in Pennsylvania and grew up in Kitchener, Ontario. He accepted Jesus at seven, and his faith became his own by age 13. After high school, he was applying to Emmanuel Bible College in Kitchener but was also thinking of somewhere else. "I heard God say in my heart: 'Did I make a mistake when I called you?'" From then on, Zack was clear. A further sense of call came in his 2nd year, in his first pastoral class. The professor was speaking about the departure from the ministry of many clergy. From deep within came the thought, "This is what I was made to do."
While at EBC, Zack met Emma, who became his wife at the end of his second year. In May 2020, he graduated with a Bachelor of Theology in Pastoral Ministry. He was honoured to receive the Delta Epsilon Chi Honor Society award for excellence in Christian Education.
Following a year as a pastor of worship and discipleship at a Baptist church, Zack became Interim Pastor at Paisley EMC in Paisley, Ontario, and then became Lead Pastor in March 2022. Zack's responsibilities include preaching and teaching, leading Bible study, visitation, vision casting and administration. His spiritual gifts are pastor-teacher, prophecy-exhortation, and administration.
"My role is to equip the congregation to do the work God has called them to do and to raise up the evangelists in our church to go out. I am passionate about glorifying God by making Christ known. This happens as God's Word works through God's people, by the power of God's Spirit."
Zack and Emma are dad and mom to 1 ½-year-old Wesley. Besides keeping up with the family, Zack is an avid reader of history, theology and fantasy. He also plays the piano and sings.