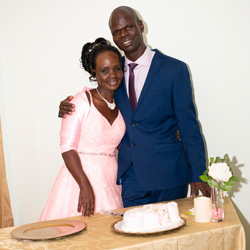 James Phanuel, approved for Ordained Minister, Oct 4, 2022
"The journey that started in 2002 and continues until now has been a journey full of trials, hardship, tears, and great persecution for Christ's sake, but through it all, God has remained faithful and has not failed his servant who has put his trust in Him. And God will do the same to everyone who trusts in Him, Amen." –James Phanuel.
James is the pastor at Gospel Fire Evangelical Church in Lethbridge, Alberta—a diverse congregation with members of several nationalities, primarily African. He planted the church in March, 2014 after conceiving the vision to start a ministry in the city while visiting there. From 2012 to 2016, he was Associate Pastor at Brooks Christian Fellowship. To establish Gospel Fire, James, Rebecca, and family made the 153 km trip back and forth each week until they moved to Lethbridge in September 2016.
James' journey to Canada seemed a long time coming, but God was unfolding His purpose. He was preparing James for ministry—allowing opportunities for training and serving amid several challenging years of living in refugee camps because of the war in South Sudan. While in Kakuma Refugee Camp in Kenya in 2002, James was saved in the Full Gospel Church of Kenya. In response to the pastor's message about Jesus and eternal life, James felt conviction and he decided that it was the right time to surrender his life to the Lord. While still in the Camp, in 2003, James started pursuing his dream of theological studies and he joined African Christian Missions International, a theological college in Kakuma. After completing a Certificate in Theology in 2005 he proceeded with his Diploma program, and it was at the same school that God gave James the vision for ministry in Canada through a supernatural visitation during a moment of prayer and fasting organized by the College. Following the Diploma program, further studies ensued, including an Advanced Diploma in Theology and Economics. While pursuing his studies, God started preparing James for ministry work. He worked with youth and volunteered in his local church at the Refugee camp. It was here that He spent much of his time seeking spiritual maturity through studying the Word of God, prayer and fasting.
When the time was right, God opened the door for James to come to Canada. He arrived in Toronto and was a lay minister in the Sudanese Community Church of Toronto for four years, from 2008 to 2012. In 2009, James returned to Africa and married Rebecca in December 2009. James returned to Toronto in January 2010 and applied to sponsor Rebecca. In November 2011, Rebecca and their first born joined James in Toronto. In 2012 the family moved to Brooks, beginning a new chapter of life and ministry.
While pastoring Gospel Fire, James joined the International School of Ministry in 2018, completed his Associate and Bachelor and is now pursuing his master's in Theological Studies.
James and Rebecca have five children—two boys and three girls. He takes great enjoyment in listening to gospel music.
James embraces a lifestyle of prayer, daily fellowship with God. " That I may know Christ and the power of his resurrection and the fellowship of sharing in His Suffering…" James loves to preach and teach to help people apply the truths of Scripture to their everyday lives. "I am passionate about soul-winning and soul-mentorship for the Lord."