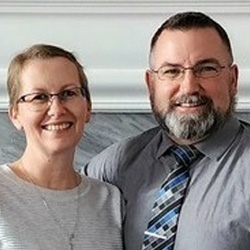 James Graham, approved for Recognition of Previous Ordination, Nov 23, 2022
"I was 23, living and working in Three Hills, Alberta when God brought about my 'accidental youth group,'" says James. "I started in September with three kids. By the following March, there were nearly 30 for Bible study and prayer meetings. Prairie Bible College sent two interns to help. 'Maybe this whole ministry thing is where I'm supposed to be.'"
James and his wife, Crystal, live in Whitewood, Saskatchewan, where he began serving as Pastor at Whitewood EMC in September 2022.
When five, James came to faith after watching a Billy Graham Crusade. When the program ended, he tried to call the assistance number on the television screen but didn't know how. When his dad discovered what was wrong, they went through the 4 Spiritual Laws together. "This was when I first recognized my need for a Saviour. It wasn't until high school that I discovered He should also be in charge of my life—then I got serious."
"I decided to enroll in Bible school and see what God would do with me and He has done a lot. I spent 1992-95 at Nipawin Bible Institute and obtained a Christian Studies diploma. Following that, I transferred to Briercrest, receiving a Bachelor of Arts in Christian Ministry with a Youth and Family emphasis, and a Minor in Sports Ministry. It was during my time at Briercrest that I learned to coach basketball."
In 1999 James saw an ad from a church looking for a youth pastor. After a candidating weekend, the congregation voted 100% in favour. "God opened doors. I stepped through." Other pastoral positions followed.
At Whitewood EMC, James preaches, teaches, leads prayer and worship nights, and directs the student ministry. He is ever seeking to sharpen his spiritual gifts in evangelism, preaching, and prophecy. James serves his local community as a volunteer firefighter – a pursuit he began six years ago. He also coaches a junior basketball team and is in his tenth year as a basketball official. "I seek to use these skills as ministry and outreach tools in my life."
Of ministry passion, James says, "I get excited about preaching God's Word. I'm striving to become a more focused discipler, utilizing the Way of Jesus as the guideposts."
James continues to strive to be a lifelong learner – having completed a Master's degree in 2007 and, most recently, a Doctorate in Pastoral Leadership in 2021. The couple have three adult children, two sons and a daughter. James and Crystal, both raised in rural settings, truly enjoy God's creation as they often go for walks and drives. James also likes motorcycling, fishing and hunting, and pretending he can play golf.