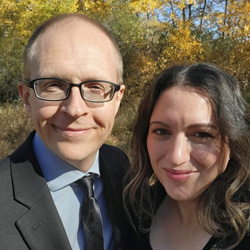 Brad Broadhead, approved for Ordained Minister, Oct 28, 2022
"I am passionate about helping our church reach out to our community with the gospel of Jesus. This includes both the things we say and things we do." Brad is the pastor at Oyen EMC, and he, Lealla and their four children live in Oyen, Alberta.
"Faith was always important to me," says Brad. He was born and raised in Calgary, in a Christian home, by parents who shared the gospel early. "I was a child when I first believed. After that, it was a process of deepening my understanding of my faith."
With family roots in the Plymouth Brethren Church, becoming a pastor was never on Brad's radar, but he was steeped in bible teaching, scripture memorization, and reading for deep understanding. From this exposure, he developed a keen interest in theology and philosophy.
Following high school, he enrolled at Capilano College in North Vancouver. He aspired to be a professional musician and earned an undergraduate degree in Jazz Studies. He worked briefly as a trombonist on cruise ships. A couple of other jobs followed.
"One day, while driving, I felt God say I was to go and study theology. I thought He wanted me to become a professor of theology." Brad earned a Master of Theology from Ambrose University College in Calgary. While there, he met Lealla, and in 2010 they married. The couple moved from Calgary to Hamilton, Ontario, where Brad earned a Ph.D. in Theology from MacMaster Divinity College.
During Brad's studies in Hamilton, the family attended Mission Baptist Church. "While we were at the church, I had opportunities to preach. A position became available, and I became interim pastor for less than a year. I felt a nudge to apply for the permanent position, but the process was lengthy. While waiting, I sent a resume to Oyen…They extended a call."
Besides his pastoral responsibilities within the church, Brad teaches band at the local school to elementary and high school-age students and provides spiritual care in the town's retirement home.
Brad enjoys playing trombone, playing Lego with the kids, and doing puzzles with Lealla. In quieter moments, he may be found reading classic literature or theology.