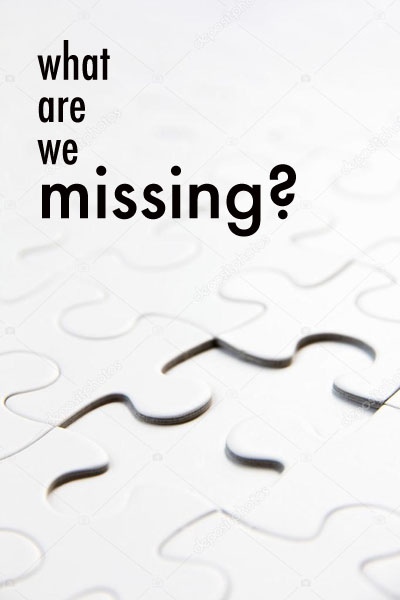 Frustration is … putting a 1,000-piece puzzle together only to discover there is a "missing piece"! There is a missing piece in the way we think about our participation in the Kingdom of God.
Jesus was making a declaration at the start of His public ministry when He said, "The season is now. The Kingdom of God has arrived. Repent and believe the good news!" (Mark 1:15). Traditionally we have interpreted Jesus' words as "repent and believe the good news about salvation". But what if this understanding does not represent the full intent of Jesus heart? The salvation experience most certainly is the door into relationship with God the Father. Jesus ransomed and redeemed humankind; He pardoned and reconciled us to the Father. The good news of salvation is about restored relationship. The further question is, "Restored relationship toward what?" Something is missing.
When Jesus spoke of the Kingdom of God He was speaking of both the doorway into the Kingdom and the pathway through the Kingdom. Throughout the Gospels we see Jesus teaching some 80 times about the "Kingdom" when He would say, "The Kingdom of heaven is like …". And often he would follow up His teaching with a demonstration of what the Kingdom of God looked like. There is a correlation between Jesus' – words about the Kingdom, His way of living out the Kingdom and His wonder-filled expressions of the Kingdom!
To understand the missing piece, imagine that you are a photo journalist following Jesus around Palestine. You would find yourself taking snapshots of Jesus in action – teaching on a hillside; healing people; hugging children; setting people free from the demonic; having private conversations with the accused and the despised; speaking fiery words with church leaders of the day; raising people from the dead; walking on water and many other ordinary and extra ordinary things. Jesus brought to life a complete picture of what He meant when He said, "the Kingdom of God has arrived."
Now image that as a photo journalist, you were doing a story on the life of the Evangelical Missionary Church of Canada, perhaps even your church. Would the snapshots taken look like those taken of Jesus? The photo storyline would have similarities for sure. I suggest the snapshots would be heavy on the gateway into the Kingdom and light on the pathway through the Kingdom.
The Path Less Travelled by …
There is a path that few travel but when they do it makes all the difference. The pathway I speak of is the path of hearing the voice of Jesus urging us to not only listen to His words but
to imitate His Kingdom ways; and
to expect Kingdom wonders to come alive today!
Imagine what would happen IF we chose to walk the path few travel by!