I caught up with Mark Anderson, late November 2017 to learn about his new role with EMCC and to learn about EMCC's Young Adult Forum that was held a couple of weeks prior to our conversation. Here are the highlights from that conversation.


GW I understand that your role in the denomination is being reshaped. What's your new title?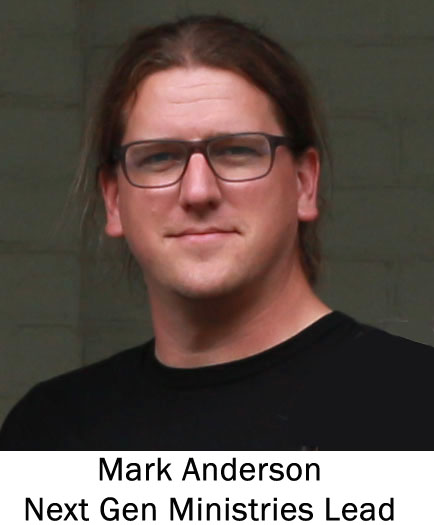 MA I'll be the Lead of Next Generation Ministries
GW How is your focus changing with that new title?
MA Youth Ministry has always been concerned with the development of the next generation of Jesus followers, but the youth ministry label carries a lot of baggage. People tend to associate it with specific programs like a Friday night gathering or a mid-week Bible study. We would like to broaden the scope of the conversation to talk more intentionally about how to make disciples as Jesus did.
GW What difference do you think this could make for our church family?
MA We tend not to think about disciple-making as a core Christian practice on par with prayer, bible study, living generously, etc. When we think about what the next generation of Jesus followers will look like, you realize that disciple-making cannot be delegated to a youth pastor and his/her leaders. We all need to be engaged in it. If we take this seriously, it could be a game changer for EMCC.
Today we over-emphasize the deep teaching and forget about the life-together moments
GW And what does disciple-making mean?
MA It's having relationships where you can teach and be taught. These might develop in the context of a program, but it's the relationship with other Jesus followers that is going to make a difference. We aren't trying to undo youth programs, but the programs need to be avenues that focus on connecting students into meaningful relationships with other Jesus followers; relationships that help them develop and deepen their walk with Jesus. Today we over-emphasize the deep teaching and forget about the life-together moments that allow us to have deep relationships.
GW EMCC hosted a young adult forum that met in Calgary in mid-November. What was the purpose of that day?
MA EMCC is going through an assessment process, looking at our strengths, weaknesses, values and what we are called to be going forward. We have a strong legacy of caring about young people as the next generation and wan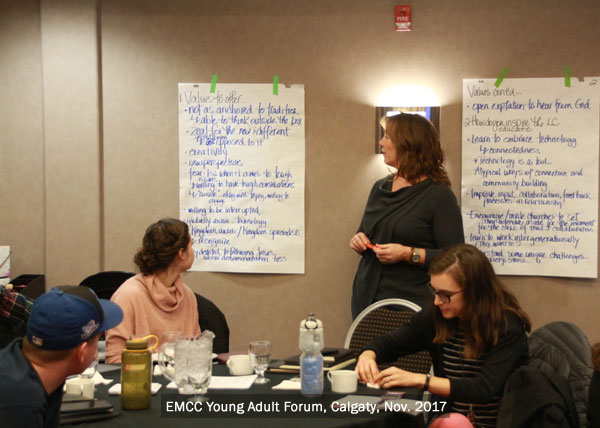 t to keep that front and centre. We gathered young adults to provide insight into what we can do to develop and foster the next generation of Jesus followers.
GW Who was there?
MA Denominational leaders, women and men from British Columbia, Alberta and Ontario, people from very large churches, and very small churches. There were people who did not grow up in the church and people who were raised in strong youth ministries. We worked hard to make sure we had a lot of different voices at the table.

GW What questions were you grappling with?
Many of the things that worry us about the next generation are things that our church needs. We are terrified to embrace them

MA We talked about the strengths and fears of young adults and of the church in general and where they can learn from each other. We talked about what it would take to develop a stance that would engage young and old alike in following Jesus.
GW Were there major points agreement or disagreement?
MA Many of the things that worry us about the next generation are things that our church needs. We are terrified to embrace them.
GW Like what?
MA The church is often known for what we stand against. The next generation is very open, very accepting, and values relationship above being right. Our church can learn from this. We have to be willing to talk about things that we thought were set in stone, but those discussions are going to help us grow as a church and they are going to keep our young people engaged, because those discussions are actually what's important to them.
GW What appeals to the next generation about Jesus?
MA I think his focus on relationship is key. Also, Jesus didn't teach in absolutes, he taught in stories. That's something that allows us to engage and wrestle. For the next gen, there is a love of story and a love to wrestle with concepts through those stories, and not necessarily end at a finite, definitive place. Jesus leaves that door open for us.
The next gen is not inspired by a list of do's and don't's
GW Do they have a genuine sense of need for Jesus? Where does the concept of sin fit into the picture?
MA The next gen is not inspired by a list of do's and don't's because that is exhausting and seems to miss the heart of Jesus. Because they put such a high value on relationship, the concept of sin as broken relationship is something that is readily understood. That's something that moves and matters.
GW What conclusions did you come to at the end of the day?
MA One thing that was reinforced was the value of next gen ministry. We care about this. We need to be engaged at the denominational level, local church level and personal level in making disciples among the next generation.
GW What exactly do you mean when you say next generation?
MA It's a moving target but we need to shift the conversation from developing youth to developing the whole church including youth to work together in following after Jesus.
GW What would you say was the overall value of the young adult forum?
MA Many of the participants were inspired that the denomination would want to keep youth, young adults, next Gen at the forefront of what we are doing. They were encouraged to know that no matter what part of the country you are from, we are all struggling to bridge the gap and have generations working together.
GW So where do you go from here?
MA Some things will look very much the same because this isn't brand new for us. We have a long history of meaningful youth ministry. We are ahead of the game on lots of levels. We will continue to evaluate how our current programs help to provide discipling relationships between generations. Over the next few months we will be considering new strategies based on the resources we have to work with, but we want to move forward without getting bogged down in another program. This isn't about killing everything that was. This is about appreciating the things that came before and developing them where they need to be, but not feeling we need to be married to any of them if they are not going to help us.


Contact Mark Anderson to learn more about his views on Next Gen Ministry
or to book him for a speaking appointment at manderson@emcc.ca