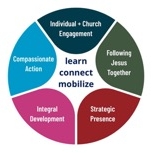 EMCC WORLD PARTNERS:
Support for our assistance to EMCC Churches' Global Mission involvement.
BENEFICIARIES:

EMCC World Partners' assistance to our churches and care for all our people in Global Mission are sustained through these donations.


DESCRIPTION:

World Partners is learning with, connecting, and mobilizing people to adaptively participate in Jesus' mission everywhere.
We assist through "World Partners Services", which includes:
engaging in church consultations;
assisting church partnerships with God's work cross-culturally;
supporting and facilitating care for global workers;
managing our development relationships and projects;
promoting justice, refugee and New Canadians' support and relief, and
representing the EMCC in Global Mission networks.
Learn more about our World Partners approach