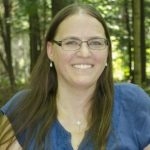 Summary
Karen is involved in a ministry to at-risk children and teens and their families in partnership with a local church.
Description:

Karen was born and raised in Waterloo, ON. She felt the call to Spain in the summer of 2000 while stuyding at the University of Waterloo and has been serving full-time in Spain with WEC International since 2005.

Karen's heart is for the youth of Spain. She counts it a privilege to work with underprivileged children and teenagers in partnership with a local church. Through offering homework classes, they have been able to make many connections with families in the neighbourhood.

Instagram: @karenmorris570