An Alberta Regional Youth Retreat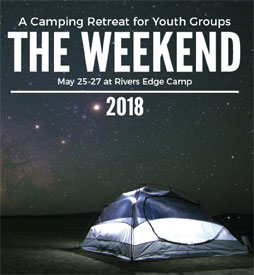 Join other EMCC Youth Groups for a weekend of connecting, learning and fun.
May 25-27, 2018 at Rivers Edge Camp
Get the Details
HERE


Note that you will need to log in to this web site in order to proceed through the registration process. Click on "Register" in the upper right corner of this window to set up an account. Accounts established prior to March 1, 2016 are no longer valid on this site.
Leader to student ratio is one male leader for every 7 male students and one female leader for every 7 female students. One leader is granted free registration for every seven registrations, additional leaders pay the same rate as students.