Pastor Phil completes his tenure as president of EMCC on June 30th. We celebrated his leadership during the first evening of our General Asssembly on May 1st in Calgary. Many people left comments for him in a memory book that was presented to him on that evening. A sampling of those comments are listed below. If you would like to add your words of encouragement or praise, please use the comment section at the bottom of this page.
Here are Pastor Phil's final words of farewell:
Dear Friends in Jesus,
Thank you so much for your kind words and generous expressions of appreciation. The Assembly celebration of the end of my term of 13 years was beyond anything I could have imagined or asked for. I want to express my particular thanks for the wonderful collection of photographs revisiting the past 13 years and full of encouraging notes and reminiscences. And an additional note of thanks to the Board of Directors for the excellent reproduction in oil of Rembrandt's the Prodigal. It is a thoughtful and poignant reminder of the Father's love for us, and of the Directors journey with me as my wife and I have experienced the sorrow of a son yet to come home. Thank you!
During my
evening message
I spoke from the text: I thank Christ Jesus our Lord, who has empowered me,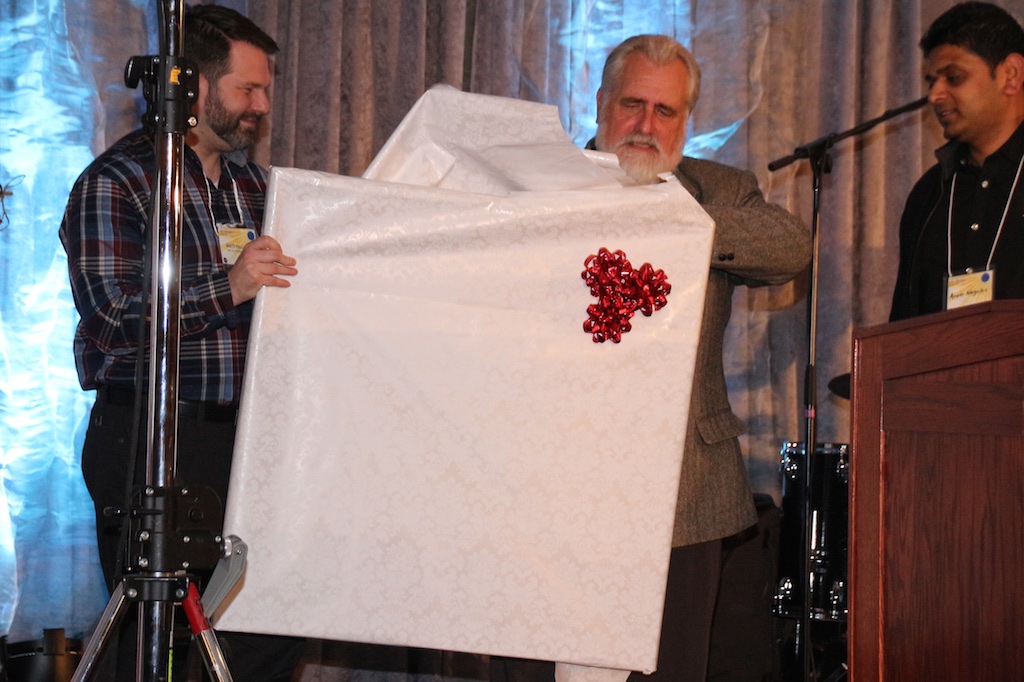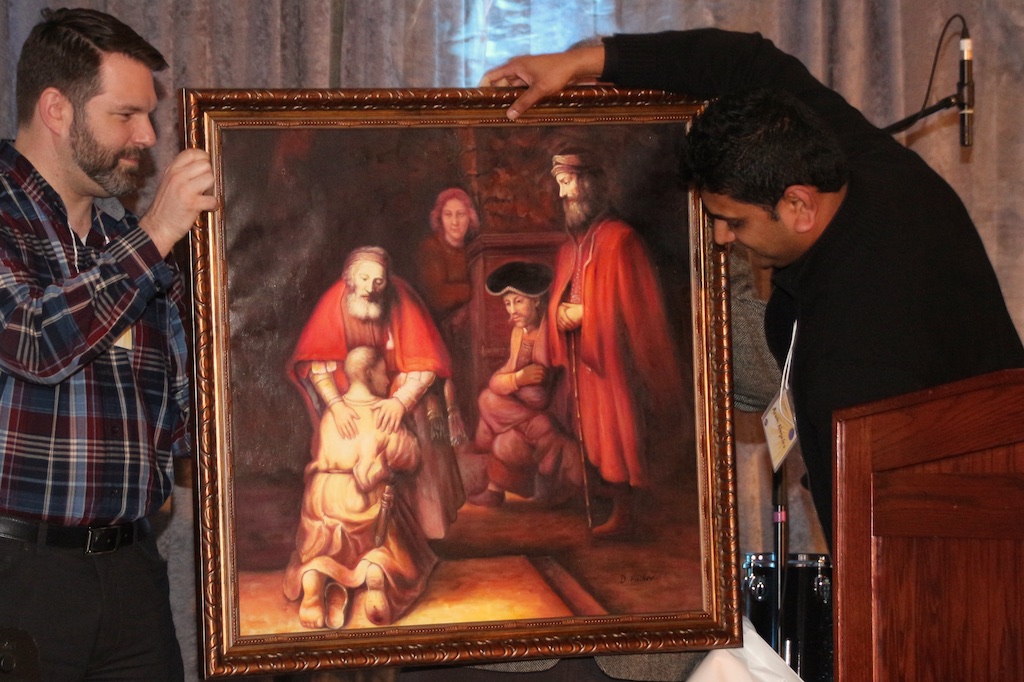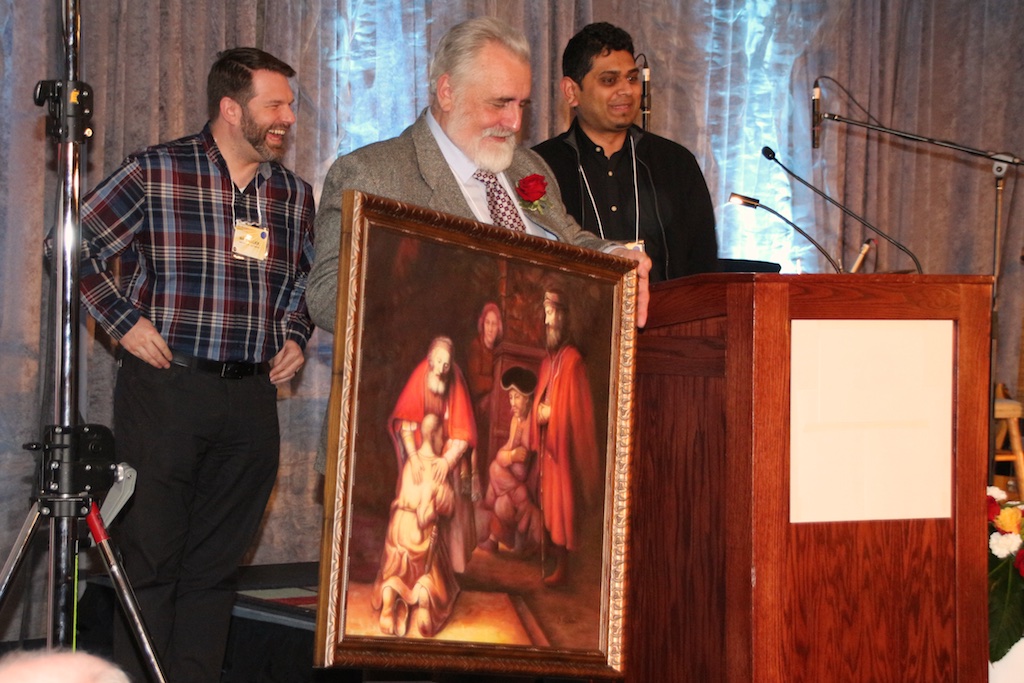 that he considered me faithful, that is worthy of trust, appointing me to his service. (2 Tim 1:12)
And I am thankful that the Lord, Whom I serve, counted me worthy of trust — entrusted with the congregations of the EMCC family, entrusted with the Pastors, with the Missionaries, with the Staff of the National Team and with a ministry that has reached and stretched around the globe and given us partners of the first order of excellence as servants of God. I also expressed thanks for my wife and my mother, stalwarts who have believed in me and loved me, prayed for me and stood with me. Finally I gave thanks to the Lord for entrusting us with the Way of Jesus, a language of disciple making that is proving most helpful in transforming followers of Jesus in their walk with HIm.
God has been, is presently and will prove to be faithful. He is the God worthy of all trust, Our Rock, Our Fortress and Our Salvation. Soli Deo Gloria!
Many have asked what I will do in the coming days. I cannot give a definitive answer and am trusting that in time it will be clear where the Master is leading. I have much to do yet as I complete my term on June 30 and turn over the reins of leadership to President Elect, Kervin Raugust. God bless him greatly in his new responsibilities.
My thanks and farewell. Join me in looking to Jesus.
In the Love of Jesus,
Pastor Phil
_________________________________________________
View the
Book of Memories
that was presented to Pastor Phil.
Video Tribute that was prepared for Pastor Phil

_________________________________________________

A sampling of comments left in the Book of Memories presented to Pastor Phil (please add your own in the Comments section below)
Thank you so much, Phil, for all your ministry influence over the years. You have been a great part of my kingdom journey. Thank you so much! Blessings now & Always – Ellen Krahn
Faith & Faithfulness – The Lord has blessed us through you. – Graham & Laurie Burkhart
Thank you for your spiritual leadership. God bless and may His grace, peace and joy be yours through Jesus Christ our Lord. – Robert & Ruth Erion Psa 29:11
Phil & Michelle, - What a truly wonderful, magnificent blessing you've been and the service you have offered this church family! We are so thankful for you both! - Andrew & Gen Epp
Phil – You immediately accepted me and my wife with a handshake and an embrace. I never experienced that from a president before. Thanks. You are loved. - Jason & Charity Metcalfe.
Phil, Thanks for your years of strong and gracious leadership. – Murray Swalm
I have greatly appreciated your leadership and your passion for following Jesus. Thank you so much! – Nathan Schultz
Dear President Phil, Not only do I "LIKE" you, I ADMIRE you and I am grateful for the work you have done. I ESTEEM you highly for your works' sake. Joyfully, Lucas van Boeschoten lucasvanb@gmail.com
Thank you Phil – for the right questions, the right word in a package of grace. Blessings & keep on! – Glen Whitmore
In 2001, when many in our congregation were tired and discouraged by mainline heterodoxy, you gave us hope that there were still faithful denominations and better things to come. We were not disappointed! Thanks for being a faithful shepherd. God bless and fulfill you in your next phase! Love in Christ, Ernest & Yvonne Dow
Phil, your leadership has been an inspiration to me. Thank you for modelling what you teach. - William Knelsen
Thank you Phil for your faithfulness to the Lord and to His church. Know that your service in Jesus name has not been in vain. Blessings! – Henry & Gwen Schorr
Thank you Phil for years of faithful service! May God grant you a wonderful next chapter. – Dan Reinhardt
Dear Phil, words cannot express our deep appreciation for your leadership in the EMCC. I can't count how many times you have made the trek across the country and over the Rocky Mountains to bring your consistent and tangible expression of encouragement in this calling to be the church! Thank you so much Phil. Know that you are always welcome in Coquitlam at Hillside! (and the Gray home). Love you bro! - Durwin & Angel
Phil – thanks for believing in me, and investing in me. Your heart for Jesus and His kingdom is so real and evident, you are a first follower. Thanks for leading us as you follow Christ. – Joseph Steeves
There was a moment in time when Charis Camp was on the edge. You called on the board to do what we already knew needed to be done. I look back on that moment as a turning point. Thank you for your wisdom and willingness to lead towards what is right with boldness! Blessings to you and your family! – Darren & Cynthia Duncalfe
Phil – thanks for keeping the main thing the main thing. – Jeremy Shuart
Phil – Just reflecting on the pleasure of working with you for the 3 years to get East to meet West and become one! I will cherish many memories of our many travels together! – Don Adolf
Phil – In far more ways than you will ever realize, you have led us to love like Jesus and live for Jesus. Thank you, and Michelle, for your inspiring and extraordinary ministry among us. – Matthew Parker
Phil, Thank you for everything you have done for the EMCC. Your wisdom, guidance and sense of humor have been a blessing to me during our time together as part of the EMCC team. Many blessings to you and your family as you continue on your new journey. Blessings – Bruna George
Phil…Thank you for your years of service and commitment to EMCC. May God continue to bless & guide you in this next chapter, - David and Karen Crouse
Hello Mr. President – Your heart is as big as you, and it is very healthy too. Thanks for sharing it without hesitation – Deborah Olukoju
Dear Phil – Thank you for Way of Jesus and for leading us back to India. What a blessing! I trust that it continues. May you and Michelle know God's leading & rest in the days to come. Love Marilyn McIlroy
Phil, You have been and continue to be a great blessing to me. Modelling endurance and humility and spirit-led coaching and leadership. Thank you for believing in me and investing in me. With much affection. – Randall Rehkopf