Monsoon rains in Nepal in mid-August washed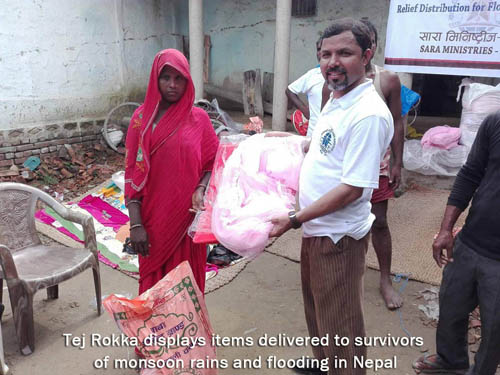 away roads, railway lines, and created mudslides that resulted in the loss of many lives. The heavy rains hit at one of the worst times, shortly after farmers planted their rice crops. Making matters worse, large numbers of livestock were swept away in flash flooding.

EMCC established a fund to assist the relief efforts, working with Tej Rokka, president of our sister church in Nepal. Tej recently sent this report and word of thanks back to us:
God is good and we were able to distribute relief help to 211 families (about 700 people) in Rautahat District. We were able to give rice, daal, salt, mosquito nets, plastic tents and Medicine. Not only that, we shared the good news and told people about who we are, and seven people accepted the Lord. Thank you so much to EMCC and the donors who helped to fund this. It was a great blessing. We are still going to other areas to help as funding comes in.
Thank you for your prayers and contributions for this relief effort. We will continue to support the relief that Tej and his team are providing with Jesus, for Jesus and in the power of His Spirit as funds come in. Donations can be made on-line here.

Joel Zantingh
Interim Director of EMCC World Partners