For the past nine years, a group of women have been gathering every Monday, year-round at Faith EMC Church in Wasaga Beach, Ontario. Putting their sewing skills to work, they turn left-over materials into beautiful products which have been an invaluable comfort to people in just about every corner of the world. Their mission, known as Threads of Love, involves up to 50 women coordinated by organizational mastermind, Suzanne Ginn.
Having lived as a missionary in Haiti and Dominican Republic, Suzanne is keenly aware of the fact that much of what we discard in North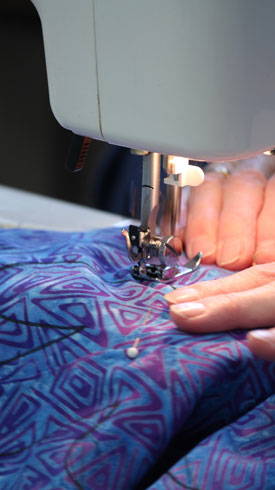 America, could be used to meet basic needs in many other parts of the world. Threads of Love took form several years ago when Suzanne decided to turn a bit of leftover material from her closet into something useful rather than throw it out. She invited a few other women to help her quilt the material, and they brought leftovers of their own. In time, they had a store room full of material offered to them by families and businesses.
Yard sales were organized to sell some of the blankets and other products they were making to raise money for missions. Other women learned about Threads of Love through the yard sales and word of mouth, and wanted to get involved. Now on any given Monday, there are 18-20 women cutting, sewing and assembling everything from blankets to booties in the basement of Faith EMC. And there are just as many women working from home to contribute to the inventory.
The products they make are distributed world-wide, usually by mission teams on short term assignments. In the early days, Suzanne would call around to churches and organizations that were sending teams, to see if they would like to take any of the Threads of Love products. Now that they are known and appreciated, there is no need for Suzanne to make calls. The requests come regularly, and there seems to be a God orchestrated balance between supply and demand. Over the years they have repurposed thousands and thousands of yards of discarded material, providing valuable goods for others without spending any money.
One of Threads of Love ladies' greatest joys is knowing that the gifts they provide frequently open the hearts and minds of those who receive them to the good news about Jesus. In addition to the way these women are blessing people they will never meet, they themselves have developed rich comraderies and a common purpose. On the morning I visited their operation, they had driven through a winter storm to be together.
If you are interested in taking Threads of Love goods along on your next mission, or if you would like to learn more about the ministry, please contact Suzanne Ginn: ginnsuzanne@hotmail.com