It's only 8:30 a.m., but the temperature in the Sundarbans region of India is already hovering around 35 degrees Celsius.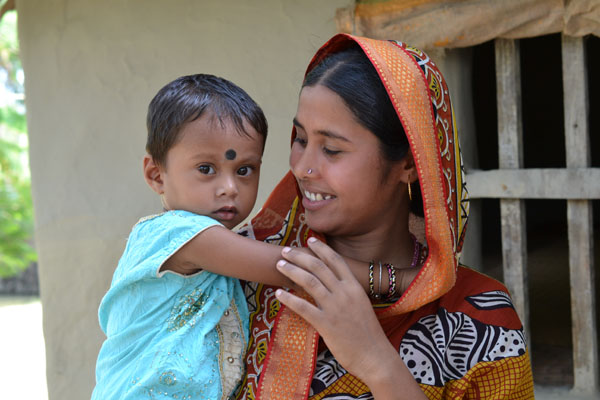 If Tarijmana Bibi, 20, is bothered by the heat she isn't showing it. She's crouched low to the ground in the shade of her father-in-law's compound, humming as she chops a mix of fresh vegetables with an old knife, pausing every few minutes to stir a large metal pot of boiling rice.
Preparing a meal with fresh vegetables might not seem unusual to North Americans. But where Tarijmana lives, vegetables are expensive and not readily available. And when they are available, it's usually women like Tarijmana and her two-year old daughter, Rukaya, who are the least likely to get any.
In the traditional Bengali culture of the Sundarbans region, it's the men of the house who are the priority at mealtimes. If the husband isn't around, the wife has to wait until he comes home before she can eat—even if she is pregnant or breastfeeding.
"Sometimes it's a struggle to get enough to eat," says Tarijmana.
It's especially hard now, as a flood during the monsoon season damaged many rice paddy fields in the community. Food is expensive and hard to come by.
That's why Tarijmana is grateful for the vegetables supplied by Mennonite Central Committee (MCC), with support from the Canadian Foodgrains Bank. They are part of a nutritious breakfast and education program for about 20 pregnant and breastfeeding mothers in the community, implemented by MCC's local partner Samaj Unnayan Kendra.
In Tarijmana's community, over 90 percent of the children under five are considered malnourished, and many mothers, who are underweight themselves, give birth to babies with low birth-weight.
According to Foodgrains Bank International Programs Director Barbara Macdonald, malnourishment in children in many parts of the developing world is alarming.
"From the moment a baby is conceived, and for the next 1,000 days, a child's body and brain develop extremely quickly," she says. "Damage suffered from not receiving enough of the right food during this time can be irreversible."
The potential damage includes things like having a lower IQ level that affects school performance, being more susceptible to illness and early death, or being permanently stunted in weight and height.
After learning about nutrition from the nurses working with the program, Tarijmana is keen to make sure Rukaya has the best start to life possible.
She breastfed Rukaya for six months, and was one of the mothers who received the nourishing breakfast.
Although no longer eligible for the free meals, she has now she has been hired to prepare the group meal from her home.
As Rukaya grows, the nurse working with the program continues to monitor her and provide advice to Tarijmana on proper nutrition.
"I learned to think of the Indian flag when feeding her," says Tarijmana. "She needs some red, which is proteins like lentils and meat. She needs some green, which is vegetables, and she needs white, which is starches like rice and bread."
Story courtesy of
Amanda Thorsteinsson,
Communications Officer, Canadian Foodgrains Bank