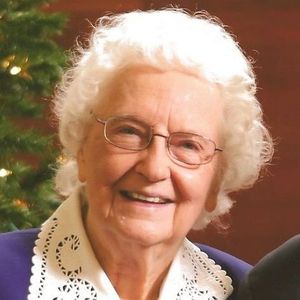 EILEEN LAGEER WARNER, 93, went to be with her Lord and Savior on Wednesday, Aug. 30, 2017. Born in Owen Sound, Ontario Canada, Eileen was the daughter of the late Wilmot and Winnifred Lageer. Eileen lived her life for God. She was a missionary in Nigeria for 25 years, having taught in teacher training and theological schools while there. She also taught for 12 years at Emmanuel Bible College in Kitchener, Ontario. She has written several books including
Common Bonds: The Story of the Evangelical Missionary Church of Canada
, and has been published in multiple articles. Common Bonds was much of the inspiration behind the recently published video:
Following Jesus Together: A Short History of EMCC
. She was a member of Faith Missionary Church in Kitchener, Ontario, and attended Fellowship Missionary Church in Fort Wayne, Indiana. Surviving are her husband, Timothy Warner of Fort Wayne, along with many extended family members.
A memorial service will be held for Eileen at Faith Missionary Church in Kitchener on Saturday, September 16th, 2017 at 2 pm with visitation from noon to 2 pm.
Memories of Eileen may be posted
here
.
Details on how memorials can be made are available from McComb & Sons Funeral Home
here
.
A Brief Biography provided by Tim Warner
Edith Eileen Lageer/Warner was born on November 26, 1923, in Derby Township, Ontario, Canada, the daughter of Wilton and Winifred Lageer. In school Eileen loved reading, writing, music and French. "Anything but geometry!" she said. She especially loved basketball and led her high school team to the Ontario junior girls' basketball championship.
Eileen graduated from Emmanuel Bible College in Kitchener, Ontario, in 1946, received a bachelor's degree in theology from Taylor University in 1949, a teaching degree from London (Ontario) Teacher's College in 1955, and after retiring from service in Nigeria, a masters degree in theology from Grace Theological Seminary in Winona Lake, Indiana.
Eileen's life has been devoted to teaching, writing, and missions. She spent 25 years serving as a missionary in Nigeria with the Missionary Church of Canada. During her years there, she taught in a teacher-training college and a theological school, but one of her most memorable year was spent running medical clinic in her first term there--with only two weeks of training at the mission hospital and a medical book to guide her. God led her to His promise of grace for such challenges in 2 Corinthians 9:8. By His grace and with His help, she delivered babies, stitched up wounds, amputated toes, and dispensed medicine, and she did pretty good for a girl who normally could faint at the mention of blood. Following her service in Nigeria, Eileen spent twelve years on the faculty of her alma mater, Emmanuel Bible College in Canada, teaching missions and Bible.
Eileen was also a published author, most notably researching and writing the history of the Missionary Church entitled Merging Streams. That was followed by Common Bonds, the history of the merger between the Missionary Church of Canada and the Evangelical Church of Canada. In Africa she had written New Life for All, an account of a major revival movement in Nigeria. She has also authored numerous articles for Christian periodicals.
Eileen remained unmarried for most of her life, refusing her suitors because of her calling to the mission field. But there was one man--a tall, handsome, clever, fellow Taylor student--who in Eileen's words, "My emotions fell for;" and after that "no man attracted me." After college, they each built their own lives and pursued their separate callings. Finally, over sixty years later, the Lord brought them together again, and on July 16, 2011, Eileen married Timothy Warner at the age of 87.
Eileen passed away from this life and received her heavenly reward on Wednesday evening, August 30, 2017, after a long battle with cancer and suffering a broken hip from a fall. She leaves a rich, lasting legacy, and her joy, energy, faith, and passion will be missed by all.